Favorite Links
Favorite Links
The following is a list useful links that I have compiled.
These are my favorite sites.
The F.M.R.C. site link provides information on membership and other activities.
This is another site for the Confederate Travelers.
The Homepage for the Patriot Guard.
The official site of the Mississippi Grand Lodge.

The website for Supertalk Mississippi.

Official wesite of Corinth Lodge #116 F&AM
An FMRC Chapter in Texas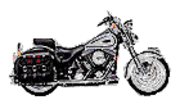 Search Engines
You know us as the Internet's original search engine.
One of the most visited hubs on the Internet, reaching one out of every two Web users.
With over half a million sites, divided into more than 25,000 categories, Yahoo! is both browseable and searchable.
GO Network is a new brand that brings together the very best of the Internet in one, easy-to-use place.
Have fun, be safe, and keep an eye out for those cages!